Workday Adaptive Planning is a comprehensive workforce planning software built for Finance Leaders of large-scale businesses to plan and forecast their future performance. Adaptive has been a great choice for teams to model workforce dynamics and tailor their headcount plans to meet the companies' unique needs.

However, Adaptive has a few limitations keeping it from being the best headcount planning tool for businesses. If you are seeking an alternative to Workday Adaptive Planning, you are in the right place.
Here is why Agentnoon is a better Adaptive alternative for headcount planning.
| | | |
| --- | --- | --- |
| Features | | |
| Free Plan | Yes | No |
| Pricing | $199/user/month | ~$25,000 min |
| Free implementation | Yes | No |
| Time to Implement | 15 mins | 4.5 months |
| Ease of Administration | Yes | No |
| Concierge Support | Yes | Yes |
| Org Design & Charting | Yes | Yes |
| Headcount Planning | Yes | Yes |
| Workforce Analytics | Yes | Yes |
| Integrations | 100+ | 300+ |
| Microsoft Excel Compatibility | Yes | Yes, but limited |
| Google Sheets Compatibility | Yes | No |
| Role-based Access Controls | Yes | Yes |
| ISO and SOC-2 Compliant | Yes | Yes |
Partners
Helping CEOs empower their teams



Time to wave 👋 to long implementation cycles, unintuitive user interfaces and laggy data
Agentnoon is Built for Scale

Adaptive isn't built for businesses looking to scale fast and utilize their resources effectively and efficiently. Its focus has been catering to large-scale enterprises that have extra resources and time to spare.
Agentnoon, on the other hand, has been built for growing companies since day one. We position ourselves as the best point solution for businesses with 200 to 5,000 employees.
Yes, we built Agentnoon just for YOU!
Lightning Fast Setup, Quick Time to Value

The average deployment time for Adaptive is 4.5 months, which is not the best option if you're looking for a quick solution and easy implementation. In addition, the prolonged implementation time and complicated setup process also result in a slow return on investment. This would affect the progress of teams that are trying to scale fast.

Agentnoon moves FAST. Sign-up is one-click. And it takes 15 minutes on average to get you completely onboarded.

With Agentnoon, setting up is quick and easy. Upload your Excel and Google Sheets and you're ready to go! Our real-time data syncing ensures accurate and up-to-date insights for leaders, as well as complete visibility of their people data. Due to this lightning-fast implementation, you'll see results in just 30 days.
Furthermore, Agentnoon's integration capability instantly connects to over 100+ HRIS and business tools. Whether it's an HR system, a performance management system, or even a spreadsheet, our system is more flexible than Workday Adaptive Planning. This helps ensure you receive a seamless integration with your current system.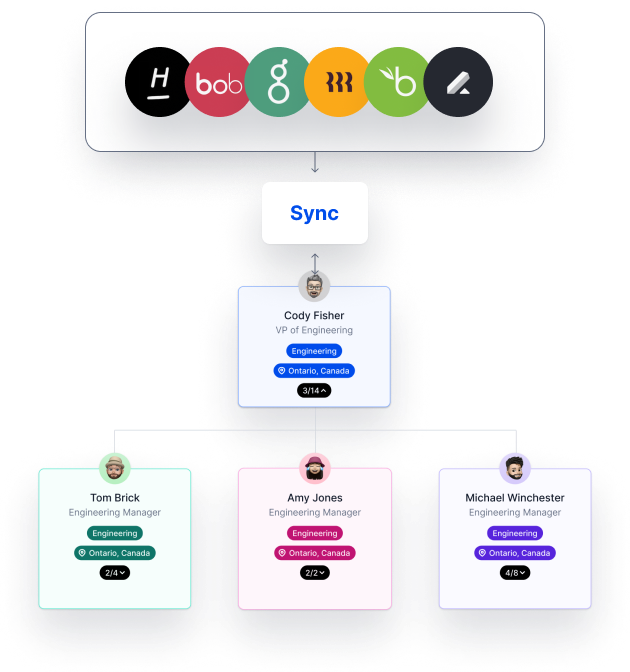 If ease of use matters to you, look no further. Agentnoon is so simple and intuitive, you won't need a user guide. (We'll still give you one...)

"Unfortunately, our implementation went extremely poorly so it is virtually unusable and I can't comment on the other features." - Adaptive customer
User-Friendly Interface Built for Executives

Unlike Adaptive, which is built for Finance Planning and Analysis (FP&A) Teams, Agentnoon is exceptionally user-friendly for every leader within the organization.
Workday Adaptive Planning is an excellent choice for FP&A teams doing their headcount modelling and analysis independently. But when it comes to headcount planning, it's important to collaborate and involve everyone. An easy-to-use and interactive UI is essential for this process.
With Agentnoon, your planning process for the company's headcount and hiring can be done directly on your org chart using intuitive gestures. You can now avoid managing 10 different spreadsheets at once and the consolidation nightmare. The best part? Everyone in the executive team, not just Finance Leaders, can collaborate directly on Agentnoon and see the effect on the company's headcount.
Agentnoon Provides Real-Time Implications of Headcount Changes

The Workday Adaptive Planning platform is mainly focused on spreadsheet-based headcount planning. While it allows you to model your workforce dynamics and skill gaps, it lacks real-time visualization of people data, making it difficult to understand the origin of additional costs and how they are distributed by departments.
At Agentnoon, we prioritize simplifying real-time cost tracking for leadership teams. With our platform, you can get immediate financial insights as you create your headcount plan. Agentnoon enables you to compare various scenarios side by side and understand how they impact your headcount burn in real-time, ensuring you never exceed your budget. The best part? A visualization of the impacts of all changes can be done in one click.
Moreover, you can use Agentnoon to produce multiple base, as well as best and worst-case scenarios, and share plans with the entire executive team to ensure seamless collaboration. These real-time insights and collaborations allow you to proactively plan headcount changes and prepare for different business outcomes. No more surprises!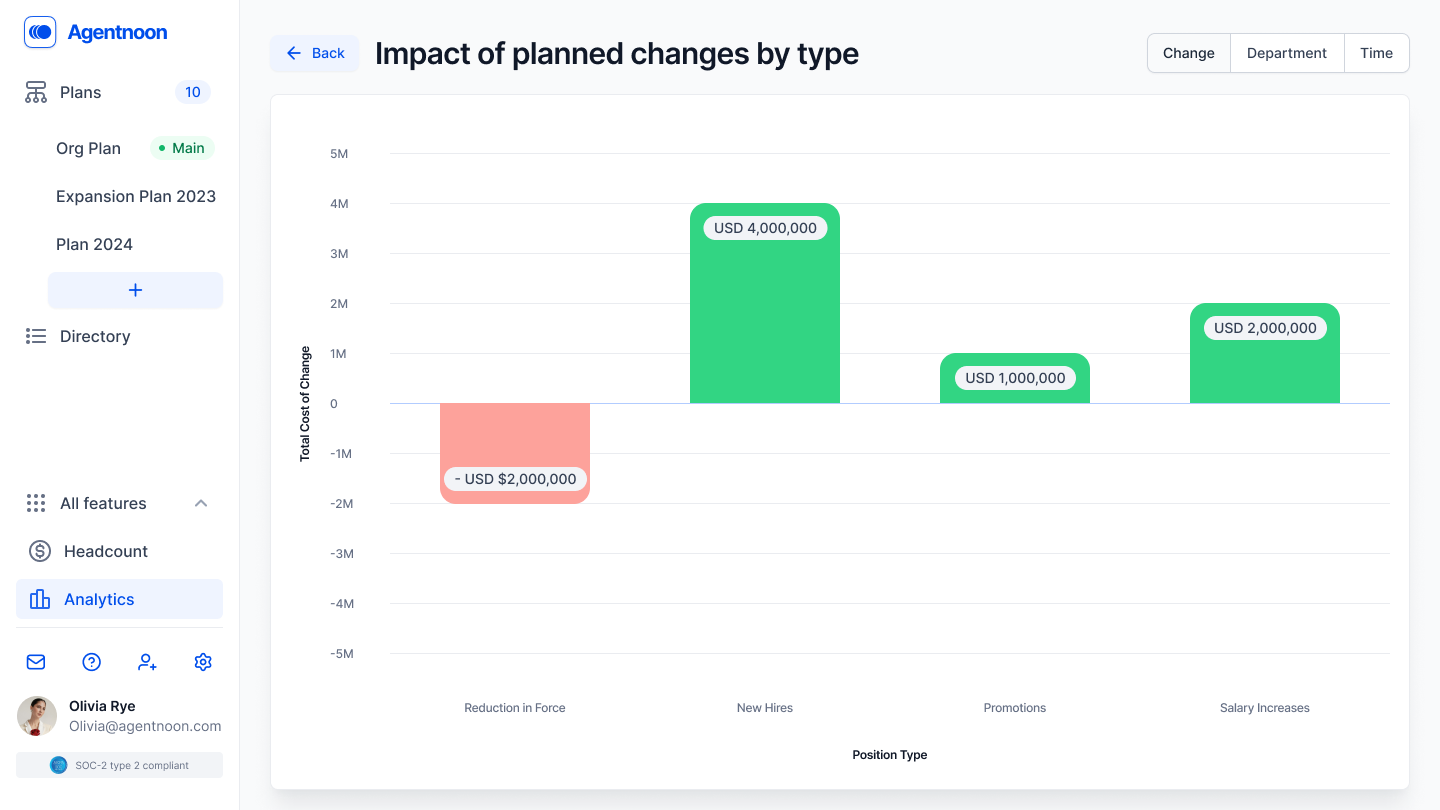 Simple, Affordable, and Flexible Pricing

Detailed pricing plans are nowhere to be seen on Adaptive's website, so you will need to book a meeting with their Sales Representatives to get more information. Many sources have stated that it would cost $25,000 on average to use the tool.
Does a higher price always mean a better product? The opposite.
It can be pretty prohibitive and risky to adopt complicated software with slow ROI, especially in today's economic climate.
Agentnoon offers simple pricing: $199/user/month. We also provide a free trial that allows you to explore all our features without any restrictions, so you can assess the return on investment before committing to a long-term agreement. This approach lets you minimize risks and avoid being locked into a costly contract.
Happy Finance Team, happy life!
In addition, our pay-as-you-grow model also ensures that you're not pushed to pay for features you don't need or use. Cancel anytime. You're in control of your expenses and can make adjustments as needed.
The Best Adaptive Alternative: Make the Right Choice

At Agentnoon, we believe that there is no one-size-fits-all workforce planning software that can cater to all businesses. We're aware that every business has unique requirements that demand customized solutions.
That's why we offer a straightforward, speedy, and user-friendly workforce planning tool that is ready to use right away.
Give Agentnoon a try. We think you'll love us!
"Agentnoon allowed us to cut down on manual and time-consuming tasks around labor forecasting while helping us increase transparency. Their team is extremely responsive and helpful when we have issues."

Senior HR Manager, Dandelion Chocolate