Pingboard is a good tool if you have a relatively small organization that needs to visualize their team quickly. However, as soon as you scale beyond 50 people, maintaining your organization in Pingboard can become incredibly difficult. The UX is limited and can be slow when trying to filter for different departments, teams and more.

It's also limited in how detailed your org chart can be once it's created. You can't showcase upcoming new hires, plan org structures for new teams, and manage your headcount planning in once place.

Whether you're an unhappy Pingboard customer or exploring your options – here's why Agentnoon is a better Pingboard alternative for org design:
| | | |
| --- | --- | --- |
| Features | | |
| Free Plan | Yes | Yes |
| Pricing | $199/user/month | $180-500/month |
| Free implementation | Yes | Only for Pro Plan ($500 a month) |
| Time to Implement | 15 mins | Weeks |
| Concierge Support | Yes | No |
| Org Design & Charting | Yes | Yes |
| Headcount Planning | Yes | Yes |
| Workforce Analytics | Yes | No |
| Role-based Access Controls | Yes | No |
| ISO and SOC-2 Compliant | Yes | Yes |
Source: pingboard.com
Partners
Helping CEOs empower their teams



Agentnoon's org chart is fast and intuitive

Most org charts are horrible and look like they were built using graphics from the early 2000s. We took a modern approach to our org chart design that looks beautiful and is easy to navigate. We've built in scrolling gestures, vertical and horizontal layouts, and easy filtering & color highlighting capabilities.

Time to wave 👋 to slow load times and org charts that look like they were built in another decade. Impress your executive team with beautiful org charts today.



Here's how it works:
Time to wave 👋 to disparate sources of people, inaccurate data, and spreadsheet hell. This spreadsheet fills itself!
Dynamic org chart that lets you plan new hires, reorgs and more

If you're like any normal company, your org is constantly changing with new hires, resignations, terminations and more. If you're using Pingboard, it's not possible for you to map all these changes on your org chart until they're updated in your underlying HRIS system. By that time it's too late and you've spent countless hours managing all of this on Powerpoint slides or Excel tabs.


What if we told you that you can do this directly in Agentnoon by making a copy of your org chart and adding, removing, and moving people around in just one click? Here's how easy it is: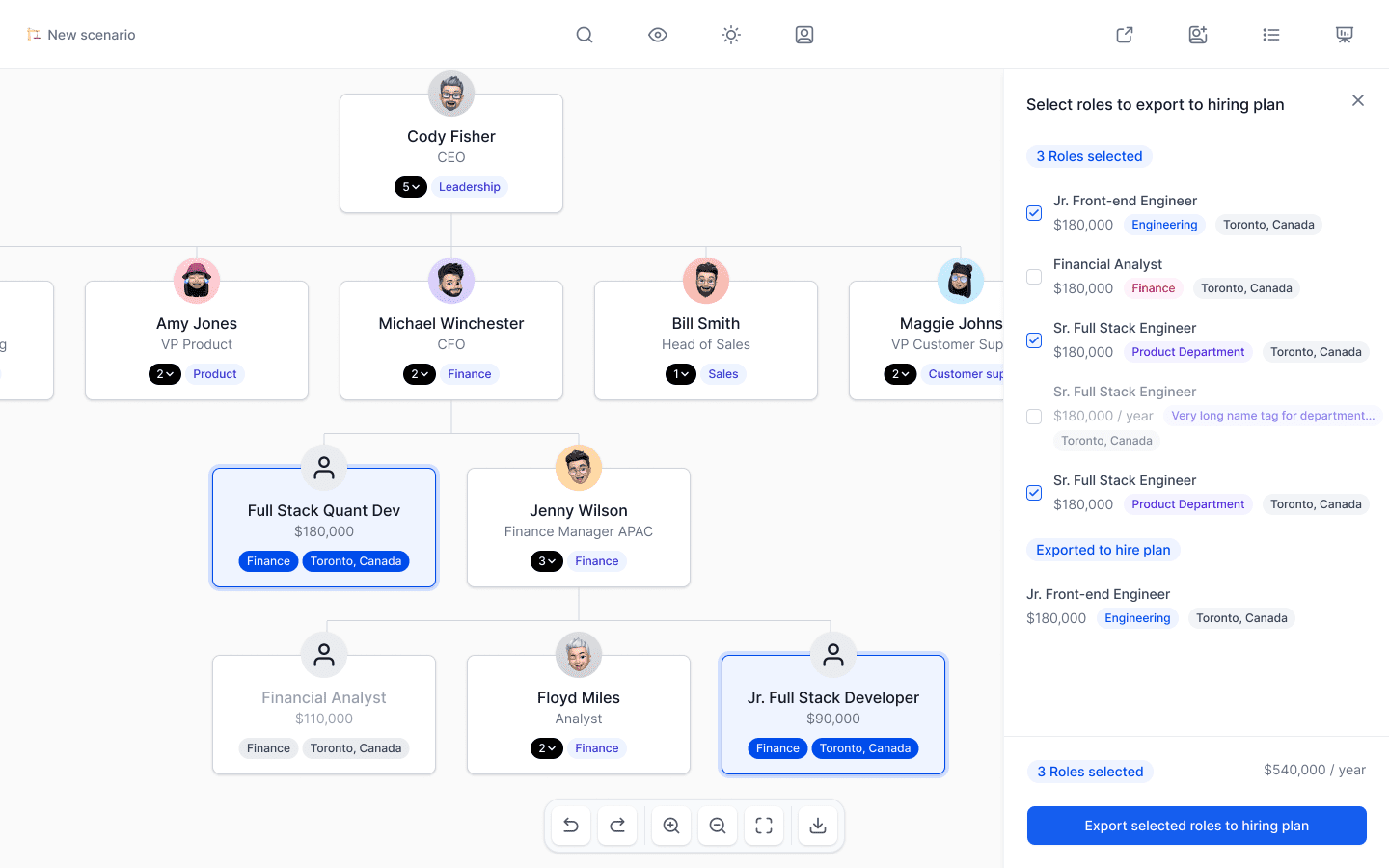 By the way, did we tell you that all of this remains confidential and can only be viewed by you unless you decide to share it to someone in your org?

Agentnoon takes your basic org chart to the next level and transforms it into a powerful org design tool.

The kicker: Agentnoon integrates with all your HR systems so you don't need to update the new hires or terminations manually. It's seamlessly synced across all platforms.

Quick start with just a spreadsheet

Pingboard works by integrating with your underlying HRIS systems and pulling data from there directly. We do this too (in less than a day) but also understand that spreadsheets are where a lot of people data ultimately lies.

With Agentoon, you can upload your people data from a spreadsheet in less than 60 days and also overlay any kind of people data that you like.
Want to add your performance data on top of your org chart? One click and it's done.

Want to overlay your project management system data on top of your org chart? Easy.

This kind of functionality makes Agentnoon incredibly powerful and lets you view your people data with a new lens.
If ease of use matters to you, look no further. Agentnoon is so simple and intuitive, you won't need a user guide. (We'll still give you one...)

The Best Pingboard Alternative: Make the Right Choice

If you're running a company with >50 employees and want an org chart design software that is fast, intuitive and just works, try Agentnoon today.

We're not just another org chart tool and offer full org design capabilities so you can always stay one step ahead.
"Agentnoon allowed us to cut down on manual and time-consuming tasks around labor forecasting while helping us increase transparency. Their team is extremely responsive and helpful when we have issues."

Senior HR Manager, Dandelion Chocolate