First, we'd like to give a shout-out to the team at Orgvue. Over the years, they've built a good workforce planning software for people leaders to design org charts, plan headcount, and bring all their people data in one place.
‍
But Orgvue has a few limitations, the core Orgvue platform was built on Flash, which was discontinued in 2021. This transition meant that many features loved by customers did not work anymore, and overcomplicated the product, preventing it from becoming the best workforce planning tool. If you're looking for an alternative to Orgvue, you're in the right place.

Whether you're an unhappy Orgvue customer or exploring your options – here's why Agentnoon is a better Orgvue alternative for org design:
| | | |
| --- | --- | --- |
| Features | | |
| Free Plan | Yes | Yes |
| Pricing | $199/user/month | ~$50,000/year (min) |
| Free implementation | Yes | No |
| Time to Implement | 15 mins | 3-6 months |
| Concierge Support | Yes | No |
| Org Design & Charting | Yes | Yes |
| Headcount Planning | Yes | Yes |
| Workforce Analytics | Yes | Yes |
| Integrations | 100+ | N/A |
| Role-based Access | Yes | Yes |
| ISO and SOC-2 Compliant | Yes | Yes |
Source: www.orgvue.com
Partners
Helping CEOs empower their teams



Time to wave 👋 to disparate sources of people, inaccurate data, and spreadsheet hell. This spreadsheet fills itself!
We Built Agentnoon for Growing Companies
First things first: Orgvue isn't the right solution for companies that want to move quickly. They're focused on catering to large companies with deep pockets and ample time to waste.

No matter if you're a startup, SMB, mid-market or Enterprise company – you have a limited budget and an urgent need.

We built Agentnoon just for you. 

Here's how it works:
Lightning Fast Setup, Quick Time to Value

Implementing Orgvue takes 3-6 months. You'll have to wait for >1 year to see results. Perfect for anyone that likes moving at a snail's pace.

Not so great if you have an urgent need and zero time to waste.
On Agentnoon, things move FAST. Signup is 1-click. From login to onboarding, setup takes ~15 minutes.
Good software shouldn't take months to set up. With Agentnoon, all you have to do is upload your Excel and Google Sheets. And you're all set! It's really that simple.

Accurate, real-time people data is critical for leaders to get full visibility. Unlike Orgvue, Agentnoon syncs data from your favourite tools in real-time. So your data is never outdated.

No more 6-month-long implementation cycles. Agentnoon is lightning fast. ⚡Get started now and see real meaningful results in ~30 days.
If you sign an annual contract with us, we'll personally onboard your spreadsheets and integrate your HR tech stack in <24 hours. Promise.
"It can be slow at times, especially when having to present Orgvue on a screen or over a call. The interface can also feel clunky and not intuitive, and expressions are not easy to write."
Intuitive UX/UI and Ridiculously Easy-to-Use

Orgvue is a powerful people analytics platform. Best suited for designing org charts. But it's billed as an all-in-one platform with a full feature suite.

They dabble in everything: data management, activity analysis, data visualization, scenario modelling, talent selection & transition management, agile structures, monitoring etc.
The problem: Most features aren't intuitive or easy to set up. The rest just aren't useful.
Too many half-baked features with legacy technology equal excess bloat. This means a poorly thought out product that's slow, hard to learn and difficult to navigate: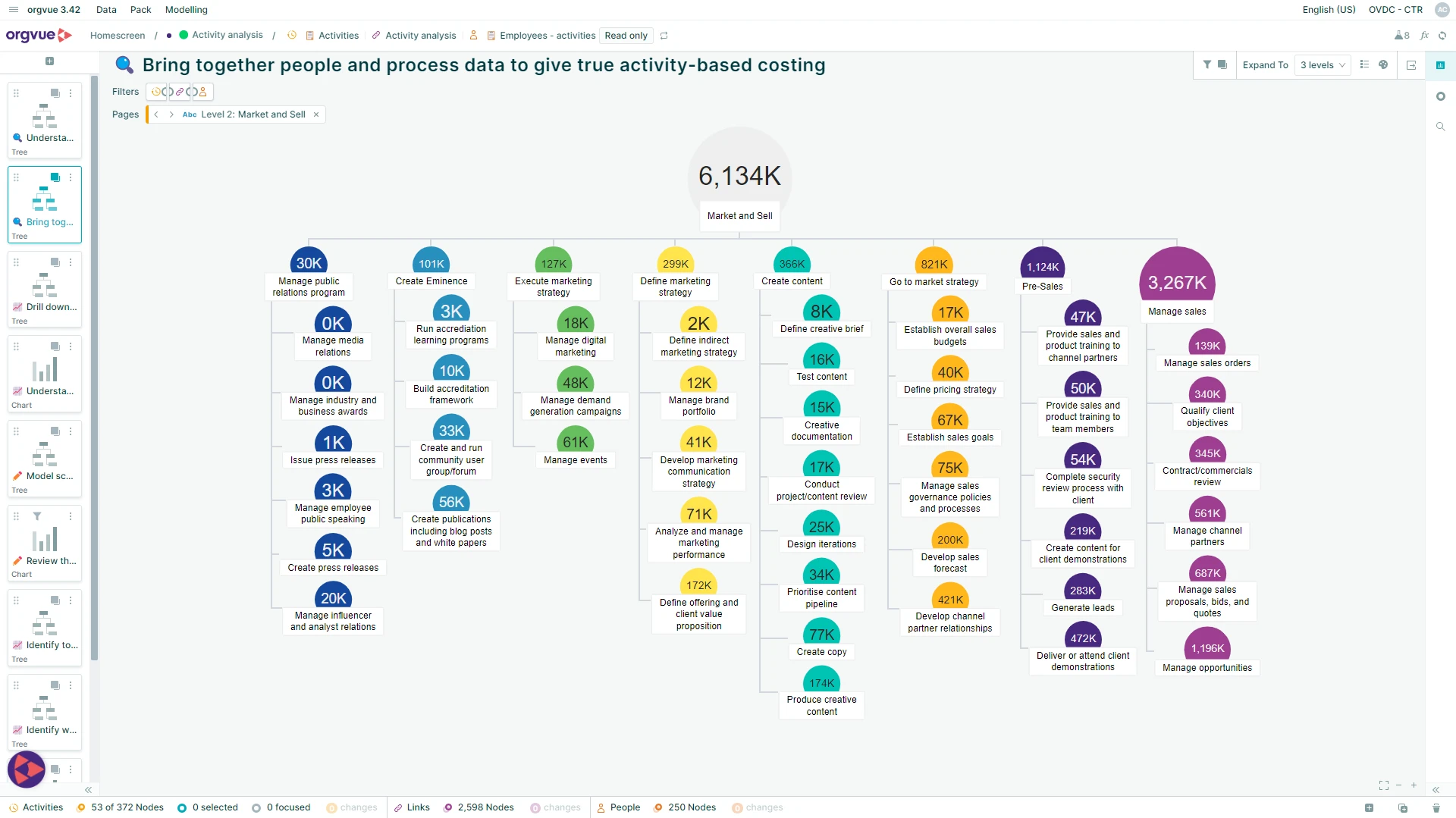 All-in-one solutions like Orgvue end up doing nothing well.

Agentnoon is a point solution focused on workforce planning. It's visually stunning and ridiculously easy to use. The UX/UI is simple, fast yet powerful. Our workflows take a just few clicks: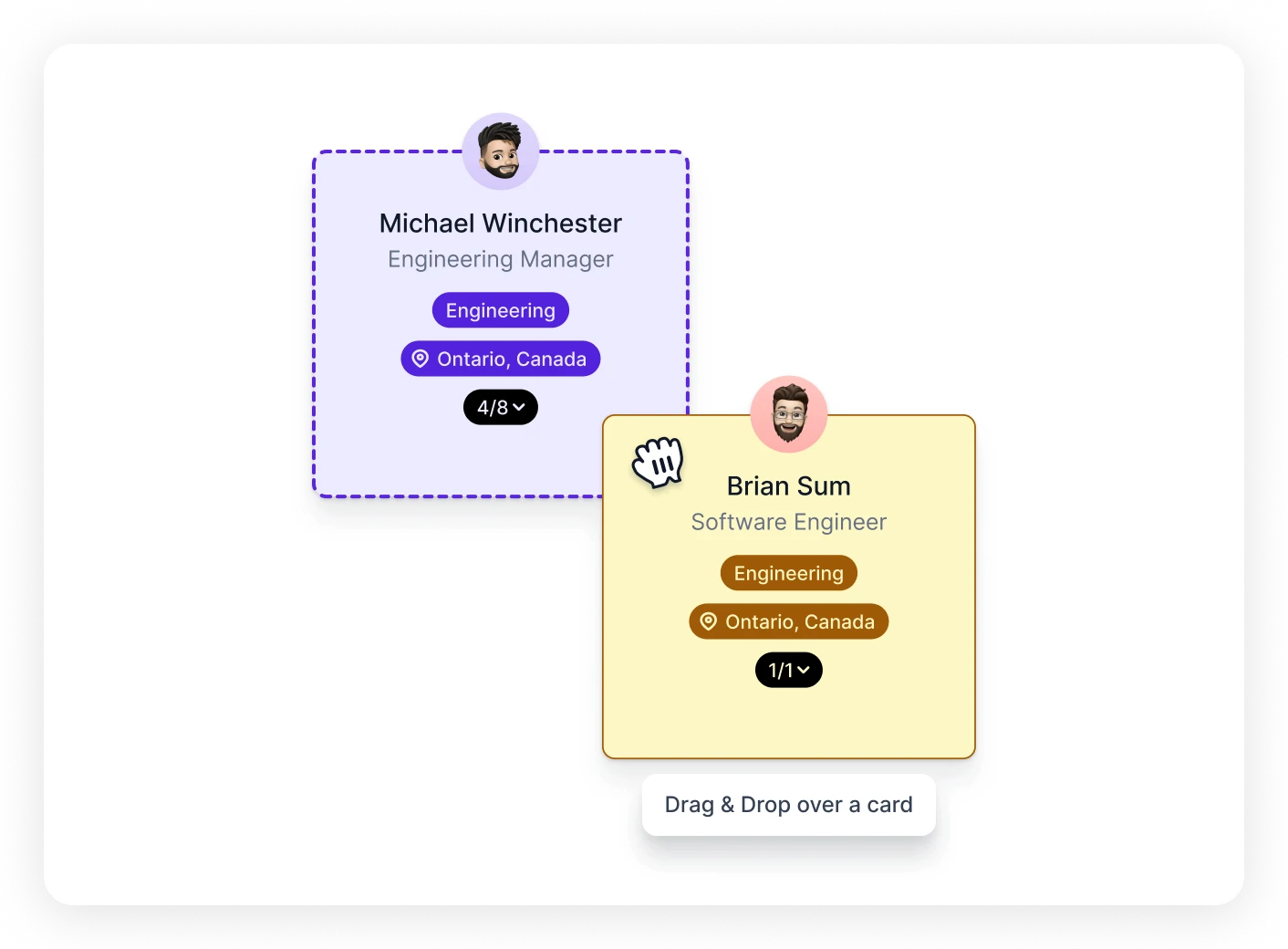 "Not always the most user-friendly platform."
No pesky bugs, glitches, technical debt or half-baked features that barely work. Just great minimal software, with lots of deep features. One example, Orgvue's calculated fields are powerful, but very hard to configure.
Our expressions work well within spreadsheets, since that's where the bulk of the collaborative work happens anyway.
"Expressions are not easy to write."
If the fastest org visualization experience matters to you, look no further. Agentnoon is so simple and intuitive, you won't need a user guide. (We'll still give you one...)
Unpredictable Technology Roadmap

The second most common complaint among Orgvue customers: poor handling of Flash transition.

Several Orgvue customers were caught off guard when the company moved off Flash based applications. Lots of the old functionality did not work, and it was a tough time for most customers and partners.

Some customers went off and built their own product, found other tools and others patiently endured the transition, hoping they wouldn't get surprised again.

While Orgvue has improved in the last year, there is still clunky behaviour in the product that could be attributed to legacy technology.

Web based visualization technology has made dramatic improvements over the last few years, and new entrants unencumbered by legacy technology choices will always do better.

Orgvue users will have to get used to the slow loading/response times of the application, and complicated navigation/UX.

The two main reasons people love Agentnoon? It is faster, and our white-glove customer service. We assign every customer a dedicated CSM who is always available via Slack, email, or chat.

Don't take our word for it. We'll let our 9.5 NPS speak for itself:

Don't trust NPS? Maybe our Intercom data might convince you:

Need help integrating your data on Agentnoon? Our concierge support is just a call away.
Simple, Affordable, and Flexible Pricing

On the surface, Orgvue is very expensive. Does that mean it's better? The devil is in the details.

To access Orgvue, you'll need to sign a long-term annual contract worth hundreds of thousands of dollars. You might also need to hire an implementation partner to set up everything. Talk about expensive.

In this climate, you want to run a quick proof of concept and see what the ROI would be before committing to a 7 figure contract.

Agentnoon offers a simple pricing: $199/user/month. Plus a free trial, which gives you unrestricted access to all our features. So you de-risk your purchase, without needing to make a long-term commitment. Your finance team will love you.

No ridiculous lock-ins. No gated features. Pay as you grow. Cancel anytime.
The Best Orgvue Alternative: Make the Right Choice

We don't think the "best" workforce planning software exists. Rather, every business has different needs that require different solutions.
If you want a simple, fast, intuitive workforce planning tool that works out of the box – give Agentnoon a try. We think you'll love us.
"Agentnoon allowed us to cut down on manual and time-consuming tasks around labor forecasting while helping us increase transparency. Their team is extremely responsive and helpful when we have issues."

Senior HR Manager, Dandelion Chocolate