Optimize

your organization
Build efficient operating models and business processes

Visualize your operating model
Reimagine your organizational structure
✅ Build out your operating model and business structure
✅ Define business processes and activity maps
✅ Visualize your operating model instantly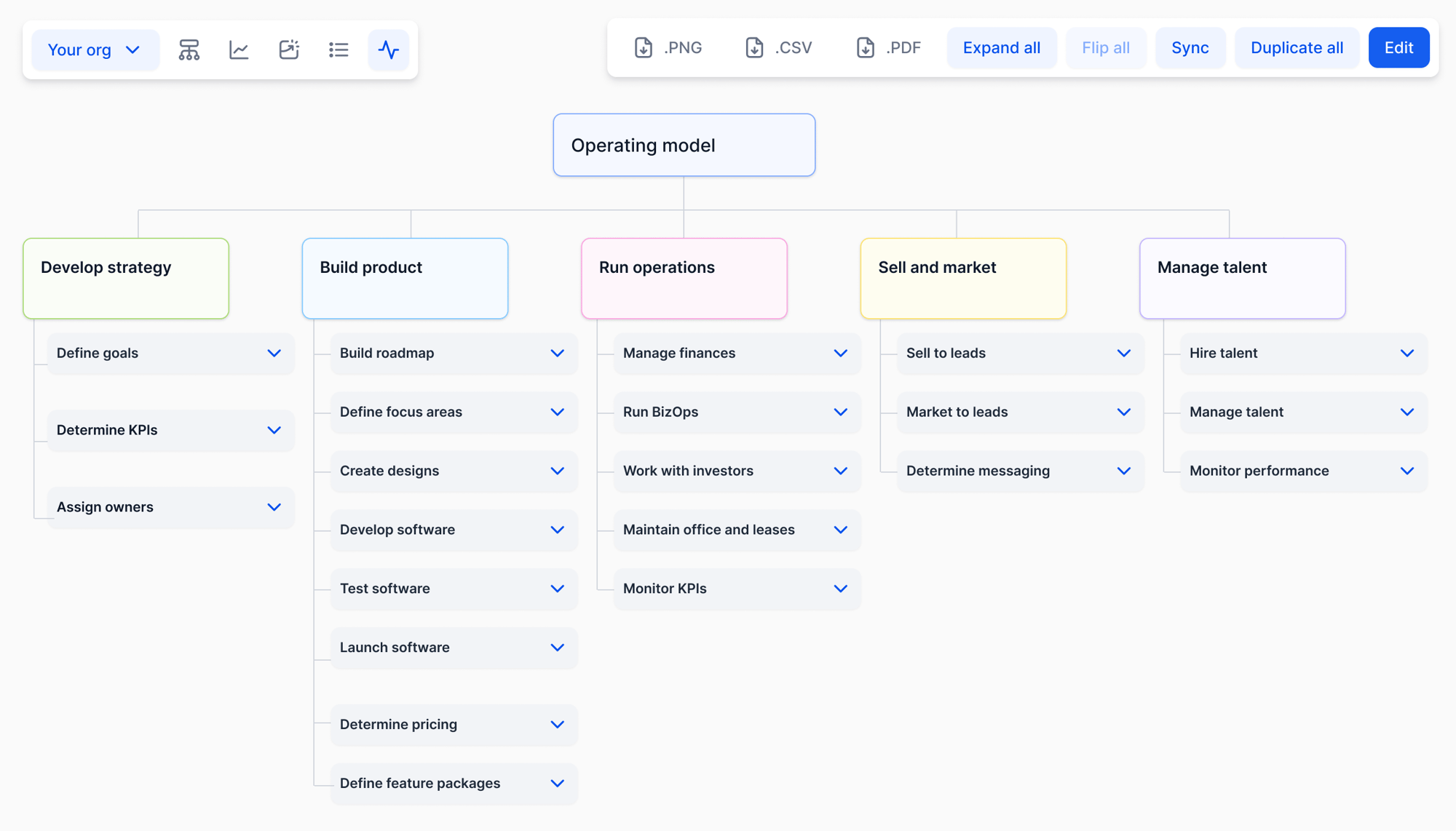 Map your business processes
Understand the true cost of business processes
✅ Allocate headcount and time allocations to each business process
✅ Estimate the cost of different business activities
✅ Redefine your operating model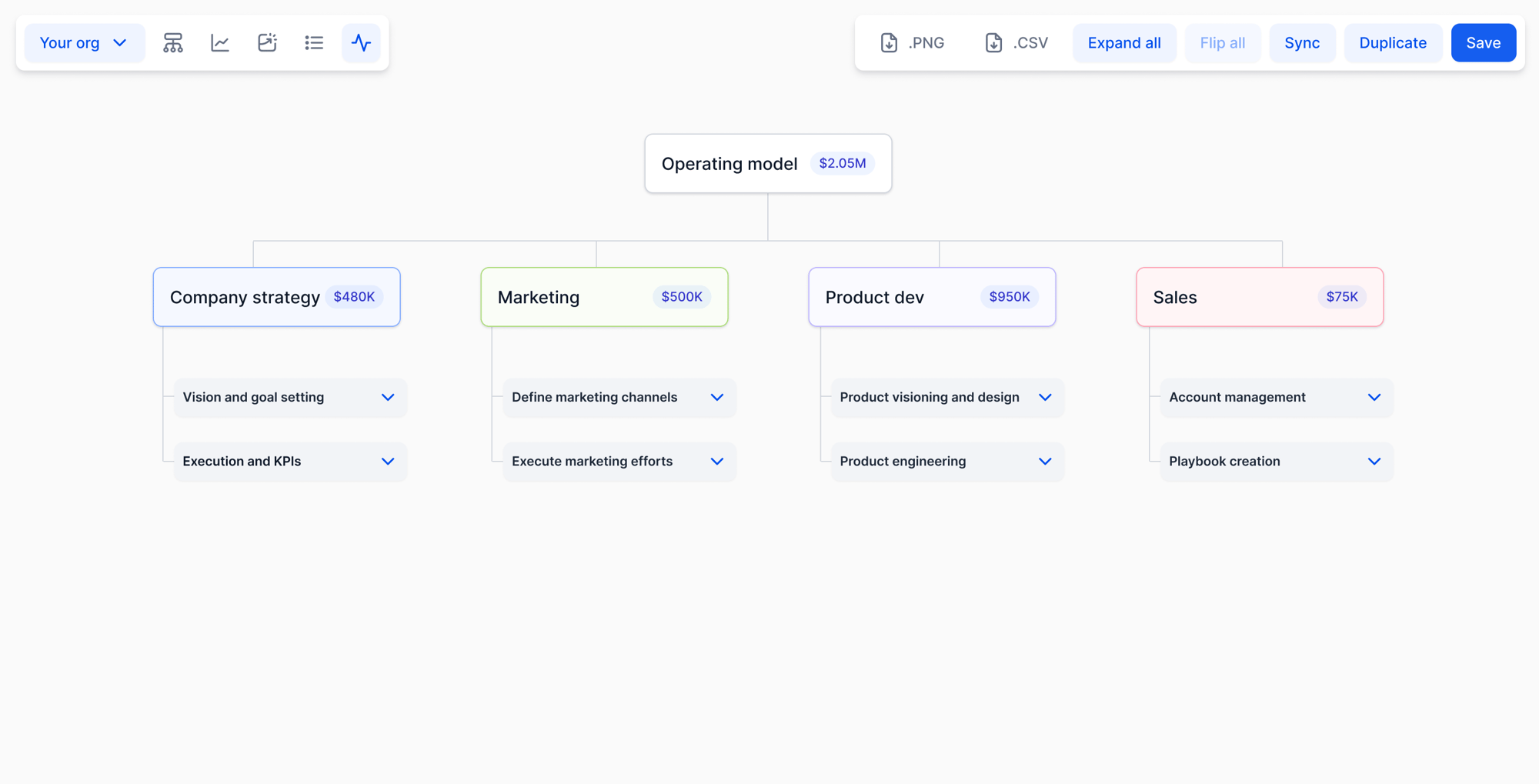 Eliminate inefficiencies
Optimize and transform your organization
✅ Make 'what-if' scenarios for different operating models
✅ Modify time allocations and capacity ratios to save money
✅ Set up new shared services centres to eliminate redundant processes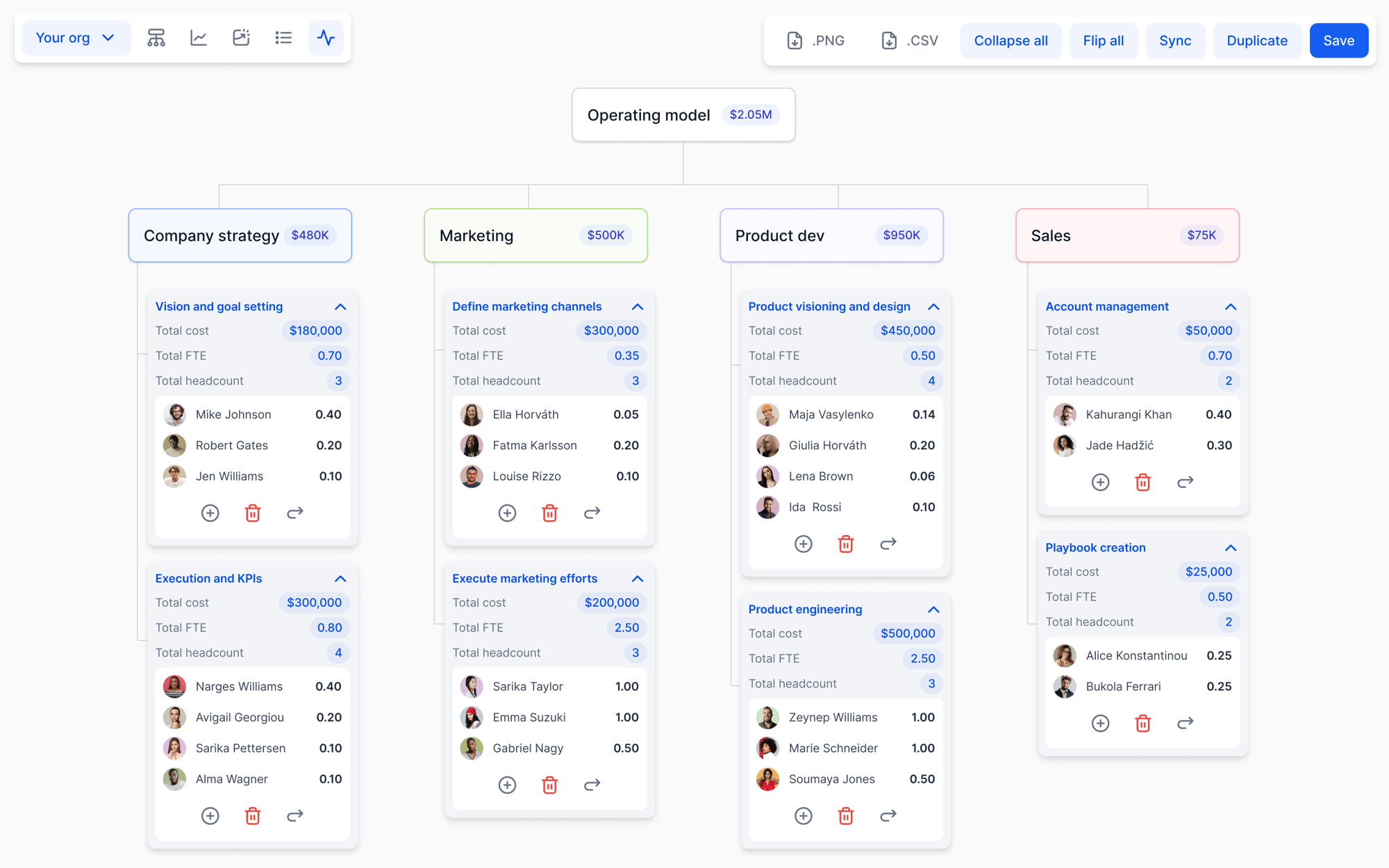 Customer Reviews
60+ customers trust us to help them grow responsibly
"Helps us make educated decisions on which business lines are working and which are not. Saves my finance team countless hours."
"Agentnoon has phenomenal customer service and an excellent product. It is an elegant yet straightforward tool that enhances all aspects of our organizational design."
"Agentnoon has allowed us to cut down on manual and time-consuming tasks around labor forecasting while helping us increase transparency. Their team is also extremely responsive and helpful when we have issues or need to create workarounds"
"Very easy to use. Great customer support (could answer any question I had). Really great tool if you are planning in different scenarios. We are using it in our management team to discuss and decide structural/strategic decisions with an impact on team composition."
Organizational Transformation FAQs
What is Org Transformation?
Organizational transformation means optimizing your organization by building efficient operating models and activity maps to understand the true cost of business processes and eliminate inefficiencies.
Why use an operating model?
An operating model is essential for an organization's success as it defines how the organization operates, grows, and responds to challenges, translating its vision into effective execution. It serves as the foundational blueprint for the organization's strategies and actions.
What is the process of activity analysis?
Step 1: Identify Activities
List all the major activities conducted within the organization, i.e. core production activities, support functions, and administrative tasks.
Step 2: Breakdown Activities
Break down each major activity into smaller tasks and sub-tasks.
Step 3: Process Mapping
Document the flow of each activity's processes. Detail the inputs, steps, and outputs of each task to create a comprehensive process map.
Step 4: Resource Assessment
Evaluate the time and resources expended on each task, i.e. labor hours, equipment usage, and materials consumed.
Step 5: Efficiency Evaluation
Analyze the efficiency of each task and process. Identify bottlenecks, redundancies, and areas for improvement.
What are the key components of a target operating model?
Processes: The workflows, procedures, and standards the organization follows to deliver its services or products.
Organization Structure: How people and responsibilities are organized, which includes defining roles, responsibilities, and reporting relationships.
Technology: The IT systems and solutions supporting the business processes.
Information: How data and information flow within the organization, and how they're used to make decisions.
People & Skills: The competencies, capabilities, and culture of the workforce.
Performance Metrics: The measures and KPIs used to track performance and outcomes.
Governance: The decision-making structures, policies, and controls that guide the organization.
Culture & Behavior: The intrinsic values, behaviors, and principles that drive the organization.
Our Blog
Insights on org design and workforce planning