Integrations
Agentnoon keeps all people data up to date by integrating with over 100 HRIS and other systems.
Agentnoon is SOC 2 Type 2 and ISO 27001 compliant with rock-solid security.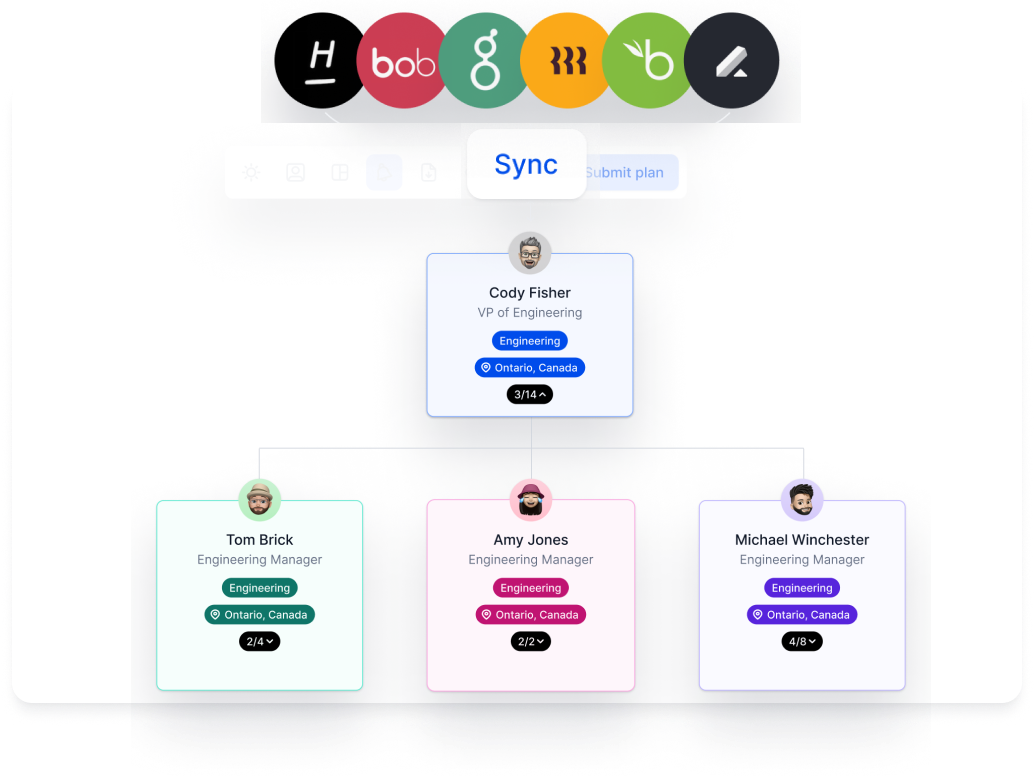 HRIS integrations
BambooHR
ADP Workforce Now
bob (hibob)
Gusto
Justworks
Insperity
Namely
OnPay
Paycom
Paylocity
Quickbooks Payroll
Run Powered by ADP
Square Payroll
Zenefits
Trinet
Paycor
Paychex
Workday
ADP TotalSource
AAP isolved
Abacus Payroll
Absolute Payroll
Accupay isolved
Ace Workforce Technologies
Adams Keegan
Advantage Payroll Services: Instant Payroll
Affiliated HR Payroll Services isolved
Affiliated HR Payroll Services Evolution
Ahola
AlphaStaff
Amplify HR
APS Payroll
Asset HR
Asure Software
Baron Payroll
Balance Point
BBCS Payroll
BBSI
Big Fish Employer Services
Bene-Care
Bizchecks Payroll
Ceridian Dayforce
Ceridian Powerpay
CharlieHR
Collage
CoAdvantage
Cognos HR
Coastal Payroll
Commonwealth Payroll & HR
CPM Payroll
Crescent Payroll Solutions
Deel
Deluxe
Dominion Payroll
Doyle HCM
Employdrive
EmPower HR
Excel Resources
Flock
GoCo
GTM Payroll Services isolved
GTM Payroll Services Evolution
Highflyer HR
Hubstaff
Humi
isolved
Keystone Payroll isolved
mp
NaturalHR
Nextep
Newtek
Oasis
OneSource Payroll
Oracle PeopleSoft
Paragon Payroll isolved
Patriot
PayUSA
Payday Workforce Solutions
PayFit
PayNorthwest
PayPro HCS isolved
Payroll Network
Payroll Office of America
Payroll Plus HCM isolved
Payroll Plus HCM Evolution
Payroll Solutions
PCS HCM
Platinum Group
PrimePay
PrismHR
Proliant
PropelHR
Proxus HR
Remote
Rippling
RMI PEO
Sage 50 US Edition Accounting
Sage 50 Quantum Accounting
Sage Payroll
SAP SuccessFactors
Sapling
Savant HCM Evolution
Sequoia One
Sheakley
Strategic Payroll Services isolved
SuitePeople (NetSuite)
SurePayroll
SyncHR
The Payroll Company
Toast Payroll
VensureHR
Vfficient
Viewpoint HR Management Spectrum
Viewpoint HR Management Vista
Wagepoint
Wave Payroll
WebHR
whirks
Worklio
Workzoom
wurk
Xero
UKG Ready (Kronos)
UltiPro (UKG Pro)
Zoho Payroll
ATS Integrations
Your pain? We understand. This is why we do what we do, and can provide you with an experience like no other.
ApplicantStack
Ashby
BambooHR
BizMerlinHR
Breezy HR
CATS
Clockwork
Comeet
Cornerstone TalentLink
Fountain
Freshteam
Greenhouse
Greenhouse – Job Boards API
HR Cloud
Homerun
JazzHR
Jobsoid
Jobvite
Lano
Lever
Oracle Taleo
Recruitee
Recruiterflow
SAP SuccessFactors
Sage HR
SmartRecruiters
TalentLyft
Teamtailor
Workable
Workday
Wrk
Performance Reviews
Others
Google Sheet
Excel
Custom Integration via Webhook / Rest API
Does Agentnoon integrate with other softwares?
Agentnoon can integrate with more than 100 third-party software. We build custom integrations in under 7 days if you use a system that we don't integrate. If your stack is not listed on our integration list, please reach out to us at support@agentnoon.com.
See the list of integrations we support:
How do you handle data security?
We are ISO27001 and SOC 2 Type 2 certified. We built integrations via secure APIs to ensure your people data is handled securely.
How do you handle user access?
We have role-based access controls configurable at the field level, and all the industry-standard certifications. Our team cannot see the data, other than for user-requested issue resolution and bug fixes.
Why would I use Agentnoon instead of Workday / Hi Bob / my existing HRIS workforce planning module?
We have customers who use HiBob, Workday, ADP, BambooHR etc. but rely on Agentnoon for workforce planning because the built-in modules of these HRIS systems work well only with their own data. These systems also don't integrate well with other systems (PMS, ATS) and especially spreadsheets, which is where a lot of sensitive data exists.